Levi's
Make Masterpieces



Client︎
Levi's Tailor Shop, FCB West Brief
(The One Club Creative Bootcamp San Francisco 2018)

Year︎
2018

Credits︎
Judikaël Le Bayon, Art Direction & Copywriting


Background︎
Levi's Tailor Shop is the place where you can customize, personalize and repair any piece of denim at Levi's stores. However, it isn't on people's radar, it's just something you do yourself. We were tasked to create a campaign to create awareness and engagement with the Tailor Shop. We're talking to those who want to add their own twist. Who enjoy fashion and see it as a way to express themselves creatively. The idea came from a blank canvas. It means limitless creative possibilities. It is the starting point of any work of art. What if Levi's denim was your blank canvas? Literally. And the Tailor Shop was the place where your masterpiece comes to life.

Wildposting
As a first step for this launch campaign, we'll create awareness by covering the streets with blank posters displaying different pieces of Levi's clothing. These have an interactive component, by inciting people to draw, paint, spray or just get crazy with them in order to spark creativity.
Digital/Online
The same idea applies to digital. By using Instagram Stories as a medium, the audience will have the opportunity to screenshot Levi's Story, which will display blank pieces of denim, doodle on them, add stickers, etc. and finally share them on their own Stories to spread awareness.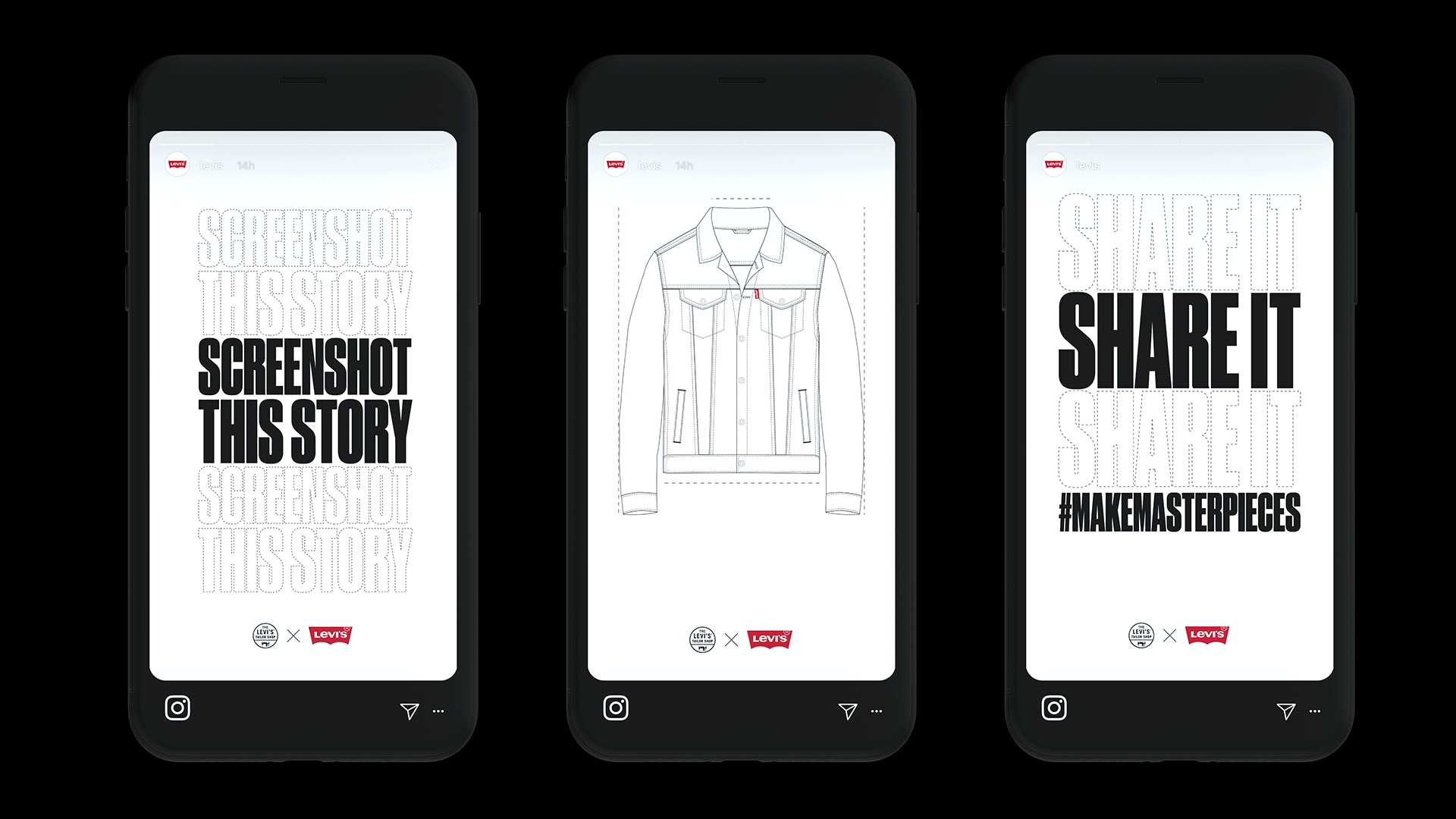 Website
The Tailor Shop website will also be updated, now featuring an editor function where users will have the possibility to customize their pieces directly on the website, browse through hundreds of custom stickers from brands or collaborations with artists. The website will include a community section as well, where people can share their masterpieces with the world and get inspired from other users.
In-Store
The experience will also continue inside Levi's stores, at the Tailor Shop section, where the customization editor will be directly available to shoppers, for them to create or get inspired by the community.
OOH
The campaign extends to OOH, on billboards, walls, subways, etc. but takes a different form. The blank canvas is gone, and instead we'll use photography in which the Levi's denim is covered by a white illustration.